We recognise that the hiring process in many organisations focuses strongly on the optimisation of resources rather than the candidate experience. Understandably, candidates are demanding more of the recruitment process to seek further transparency and professional career advice before taking decisions.
At iKas we offer every candidate a personalised journey to career decision making. We will help you identify the right role, match your skills and experience to the right company and assist you with building rapport with your future employer.
We want you to feel different and know you are being represented by an organisation who has your best interests as their priority goal. Our goal is to ensure you make a structured and informed choice around your future career prospects.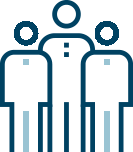 Diversity & Inclusion
It is proven that diverse workforces not only lead to better staff retention rates but help develop a greater understanding of business needs and solutions. As a Group we are committed to making a positive contribution to the diversity agenda.
We aim to reflect the diversity of the changing environments of the world, providing equality and fairness for all who we directly employ and those for whom we find employment. We pledge to not discriminate on the grounds of ethnicity, gender, sexual orientation, age, physical abilities, family status, religious beliefs, or other ideologies.